Getting Christmas cards is one of my favorite things about the holiday's. I actually enjoy getting the mail in December in anticipation of all the fun cards!
We have never sent out a Holiday card before. For many reason's, the main one being money, the second being I always procrastinated until it was already New Year's. But not this year. With the great offer Shutter fly was doing for Blogger's I was able to get 50 FREE Christmas cards!
So once I finally narrowed it down and picked a card, I received them fairly quickly. I addressed them, sealed the envelopes, and on the microwave it where they still sit. I need to get some stamps and then they will be put into the mail in the next 2 days!
So they may get there by Christmas or right after, that's success to me!
I thought I would share our Christmas card here with all of you!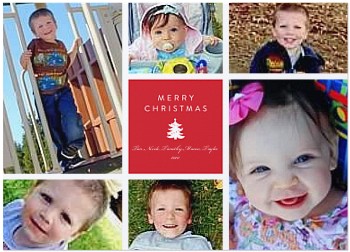 Many Memories Tree Christmas Card
Do you want to share your Holiday card? Or maybe just want to look through all the other cards? Click below!